East Hopei Government, Mengjiang, Hua Hsing Bank
>>Album version<< - Really neat
A portion of Hopei Province revolted in 1936 with the help of Japanese military. In Feburary 1937, Chi-tung bank opened its doors and issued banknotes as well as nickel and copper coins. When the Federal Reserve Bank of China was setup in North China, the bank is deemed to be unnecessary. Banknotes were redeemed and coinages withdrawn by the end of 1939.
Coins were most likely struck in Japan.
| | | |
| --- | --- | --- |
| 5 li | 1 fen | 5 fen |
| | | |
| 1 jiao | 2 jiao | |
| | | |
Only struck in 1937, 5 different denominations were released. Not very popular and East Hopei Government collapsed in the following year. Smaller denomination coins are tougher to find in good condition. A set in VF-XF such as what I have will cost from 150-200USD. Will be pricier in better condition.
Only coin struck, most likely at Kou-Pei, at the capital Kalgan.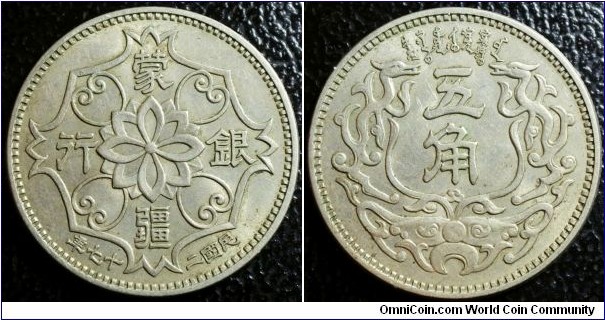 5 jiao - only denomination struck in 1938. Plentiful and you should be able to get a reasonable example for around 25USD.
E Kann presents an interesting story about the origins of this Hua Hsing Bank.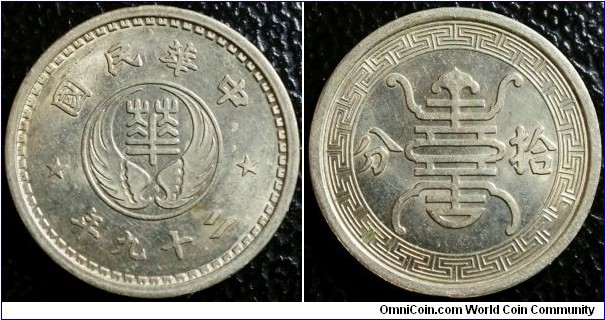 10 fen - only struck in 1940. Three other denominations were struck but are extremely rare. Was not very popular and was recalled. Also rather plentiful and you should be able to obtain one for around 20USD.
I can be contacted at gxseries AT coinpeople DOT com. You can also write to me in Mandarin if you like - I can read it no problem but I will be replying in English.
Last updated: 01 December 2011